During the middle of August, I realized that I had done absolutely nothing during the summer due to heavy hours at both work and an internship. To combat this, I came up with a summer "bucket list," of stuff that I would accomplish before summer ended.
The first thing on my list was visiting Fenway Park. This was always something I wanted to do, and it didn't matter if the visiting team was the Yankees or some random scrub team, I was going to do it.
On the weekend of September 18th, I did just that. As I promised my friend (since I know he'll be reading this, I'll just out him right now as a poser Red Sox fan who in actuality is a failing Mets fan), I would also write an article about it.
So here is my thorough retrospective about my trip to Fenway Park, from an open-minded Yankee fan's perspective.
September 19, 2010, Blue Jays vs. Red Sox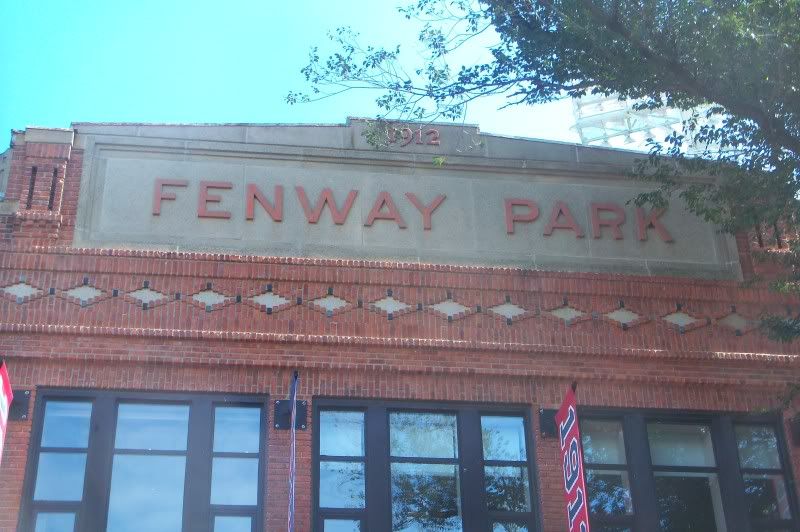 The overall atmosphere surrounding Fenway before a game is impressive. I don't think it has the same vibe Yankee Stadium has before a game, but it has its own quirks. The coolest thing I thought were the bagpipes ensemble playing on Yawkey Way, which is something Yankee Stadium obviously doesn't have. In a sense, Yawkey Way (which is only open to ticketed fans before a game) almost has a carnival-like atmosphere, with actors on stilts and a bunch of exterior grills cooking up something good.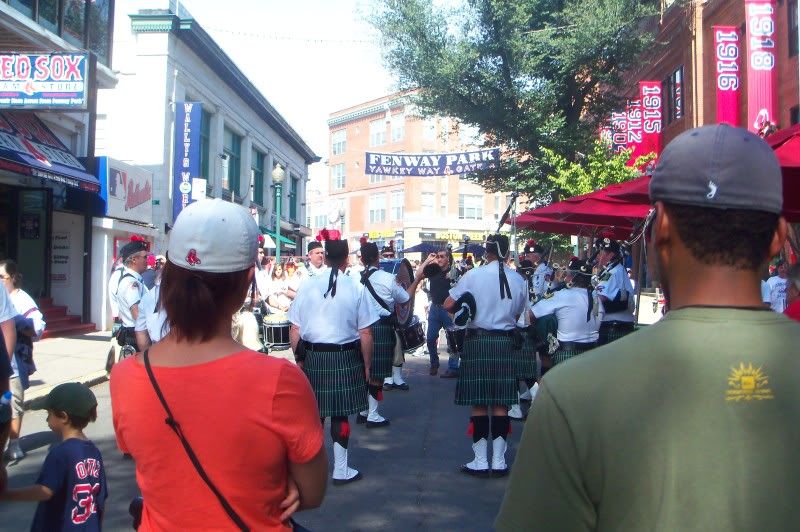 I was also able to buy a scorecard for only $2 out there, which if you know me, is something I usually treasure when going to games. At Yankee Stadium, the scorecard enclosed in the "Yankees Magazine" is $10; and at Camden Yards, it is $5, so this was a great deal.
NOTE: You can find an article from my trip to Camden Yards earlier in the year at http://fanhuddle.com/newyorkyankees/2010/05/17/a-yankee-fans-trip-to-camden-yards/ ; I am no longer affiliated with this site, thank God, but it is a good comparison about how I feel about these parks to Yankee Stadium.
Concourses
Walking inside the park, I was immediately blown away. Once again, as the article I just posted will tell you, I am a huge fan of concourses. You can see pretty much everything you're going to see of the field on TV, but it's the concourses, in my opinion, that give a park its feel.
My first impression of the halls was that they are actually bigger than advertised. When people mentioned how cramped they are, I thought they were serious. I can compare the concourses similarly to the ones at the old Yankee Stadium, where, if you leave after the last pitch you will be a walking zombie for about 15-20 minutes, but overall, you aren't actually walking into anybody going to your seat.
Same thing with the bathrooms. I heard about people going to the bathroom during the third inning and not getting back to their seat until the 7th. That's false. I think I made a bathroom break after the 5th inning, and I only missed one pitch from my seat of the next inning; a pitch that I caught walking back through the tunnel.
The Tunnel/Field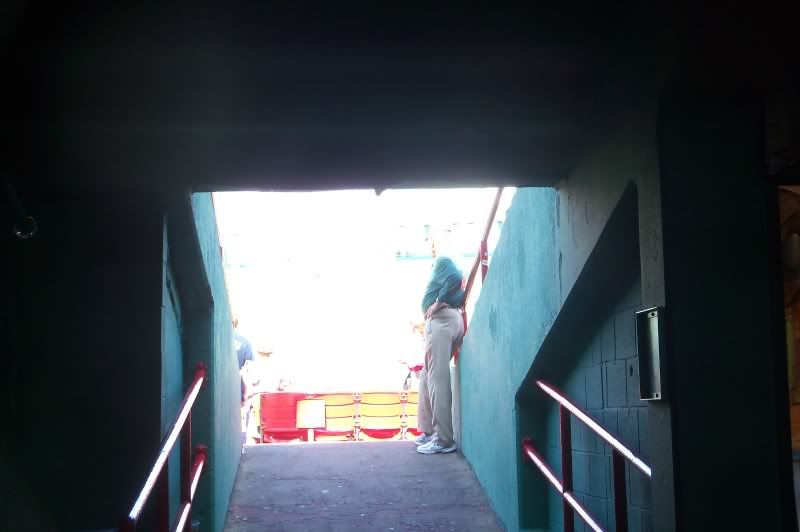 Walking through the short tunnel to the field, though, really brought back memories of the old Yankee Stadium. If the New Stadium has lost anything, it's the ability to be overwhelmed at your first sight of the Stadium.
I remember the first time I walked through the tunnel very clearly, and I know many Yankee fans also have the same feelings. It has the build-up you cannot get anywhere else. At the New Stadium there are so many places to see the field (which is both good and bad), so you don't have the "oh my God, we're about to get see it!" feeling.
I was very, very impressed though. I mean I know what Fenway looks like, I've seen it on TV at least 8 times a year, not counting all of the non-Yankee game highlights emanating from there that I've seen. But being there live is something else.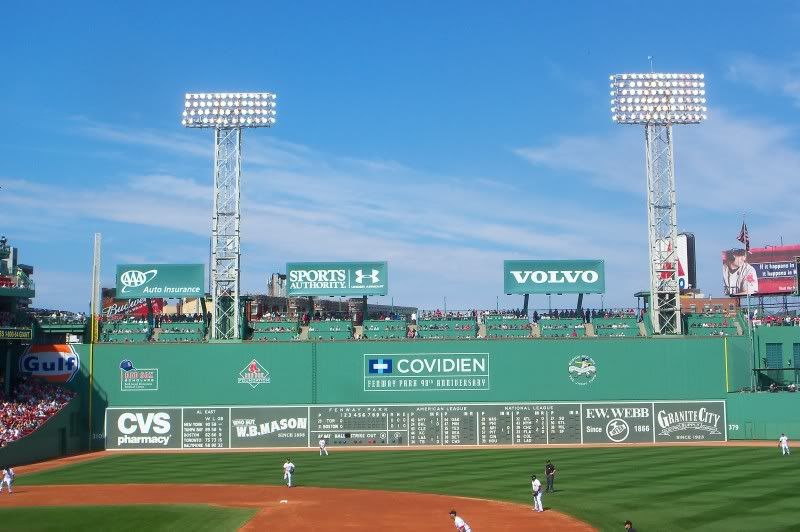 No matter what my friend says, the Green Monster is as big as advertised, and makes for an amazing backdrop to my pictures.
The Seats
As for the seating, I don't necessarily agree with the "every seat is a good seat" theory. My seats were very good, but my friend also got another friend to go last-minute who bought tickets in Section 4 behind the Pesky Pole.
Actually you wouldn't know that, because the Pesky Pole was blocked out by a support beam.
I think the poles make for a nice touch, unless you are stuck sitting behind one of them. I was sitting next to one, in the same row where they are situated, so I was fine. I'm sure those behind me weren't so fine though.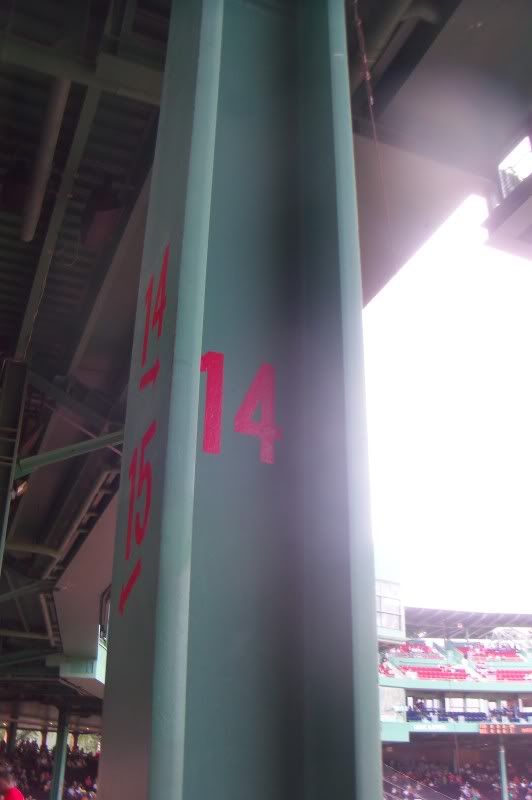 The seats themselves is where Fenway makes its money. Starting in what they consider the "grandstand" section, which actually starts no more than 25 rows back from the field (remember, Yankee Stadium's grandstand is the upper deck which is clearly not 25 rows back from the field), the seats are all wooden. I think this made for a tremendously awesome touch, a subtle one that made the experience that much better.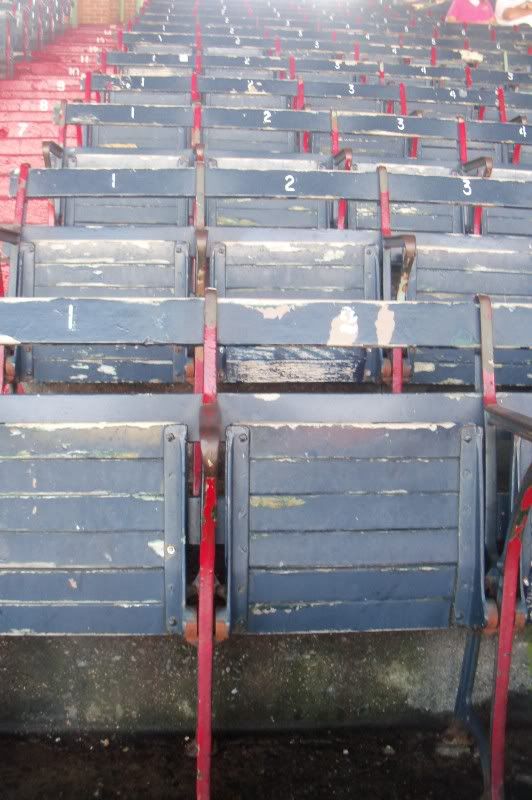 In-Game Atmosphere
Speaking of subtlety, I think it's the little things during the game that really made it stand out. During every other pitch at Yankee Stadium, you either hear the "CHARGE!" piece going off, or the "We will rock you" stomp shooting through the speakers. At Fenway, you don't hear anything during an at-bat besides the ball hitting glove (or bat), and the fans reacting.
That was something I really liked, and would be awesome if they did this at a Yankee game.
Between innings, the action on the video screen isn't much compared to Yankee Stadium (which always has a quiz, subway race, etc.,), but that doesn't really matter too much, does it?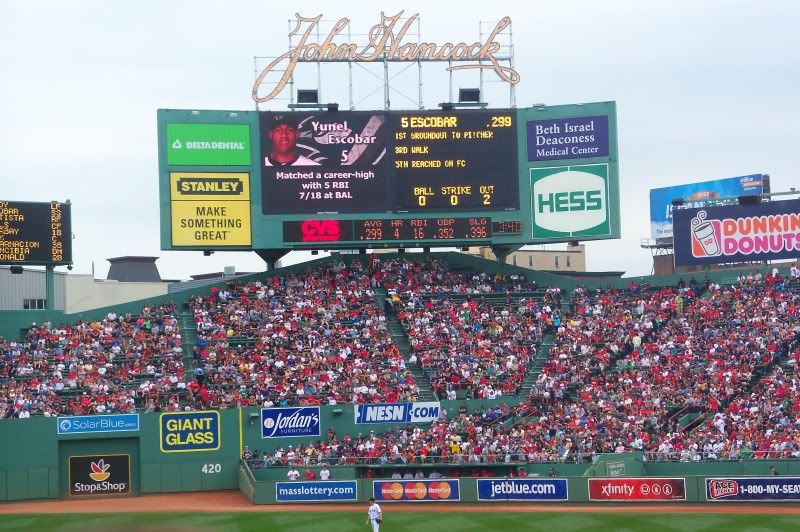 Actually I thought a nice subtle thing was that after each play, they would have the official scoring on the screen. I've scored at enough games to know what a play should be scored as, but it's a nice reasurement for times that I might have missed the action on the field.
The scoreboard on the bottom of the Green Monster is amazing, though. Because our seats were so good, the background was the Monster, which gave me a great vantage point of how the scoreboard works. You get to see things you don't usually see on TV, such as the yellow color of runs scored during the inning which signifies that the inning is still continuing, or the one I was amazed at most, "error" and "hit" lights.
There was one play during the game that was reviewed to see whether it was a hit or error. When it was ruled a hit, not only did they say so on the screen, but the "hit" light on the scoreboard actually lit up. I thought it was one of the coolest things ever, because you can imagine that happening 50+ years ago before they came out with electronic scoreboards.
The action during the game itself wasn't too bad. Victor Martinez and J.D. Drew hit home runs, and Jon Lester (who would be considered my favorite Red Sox player) pitched 7 shutout innings. The final score was 6-0 Sox.
During the 8th inning is when the real highlight took place. As a tradition, they play "Sweet Caroline" before the home half of the inning. They play the entire song, which means it seems to drone on at times, but the chorus is met with a huge rendition by the 37,000+ in attendance.
Yes, I did sing it.
The Yankees have an equally fruity song to sing along to at their Stadium (YMCA), but it reminded me of my first game at the old Stadium when they used to play "Cotton Eyed Joe" during the same time of the game.
The Fans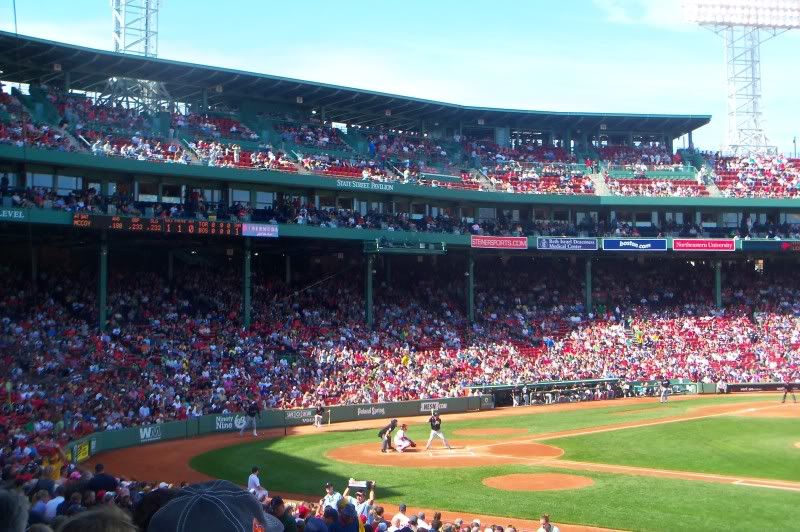 The Red Sox fans were, I hate to say it, tremendous. I was sitting in good seats so I'm sure I missed out on the worst, but I didn't hear any real trash talking about the other team, or, even more importantly, I didn't hear any booing.
In fact, Blue Jays Left Fielder Mike McCoy made a tremendous catch in the third to rob Red Sox's Navarro of at least a double, and the Red Sox faithful actually cheered the play.
This is completely skewed because I know it has to be about 50 times worse when the Yankees are in town, but I've been to Orioles games at YS this year that had more booing. And Adam Jones sucks!*
*Inside joke
Overall, I had a fantastic time. I consider myself a baseball fan as much as a Yankee fan (meaning I like the other 29 teams combined as much as I like the Yankees, I would like to think), so seeing other ballparks is something high on my list of things to do.
Fenway Park didn't disappoint. I love Yankee Stadium, and I really liked Camden Yards, but Fenway Park has that thing most places don't have: history.
When you walk into the place, you actually feel like you're walking into the place where Joe Dimaggio took the field as a visitor, Ted Williams blasted home runs (including that AMAZING one into the bleachers where the red seat is located), Bucky Dent killed the Sox's spirits, and even Babe Ruth taking the mound.
As a BASEBALL fan, not just a Yankees fan, that really excites me.
I haven't felt that kind of feeling since the last time I went to the old Yankee Stadium in 2008.